What is the Mar de Santiago route?
The sea-river route that gave rise to the Camino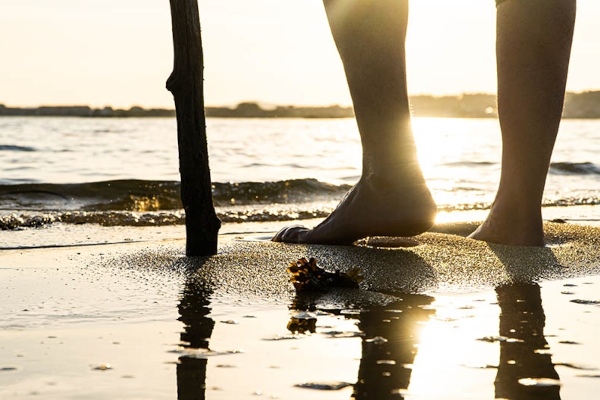 The Vilanova playwright and author Valle-Inclán, Valga's famous singer Bella Otero or the first Archbishop of Compostela, Diego Xelmírez from Catoira, will be the personages that accompany us on this adventure. They will guide us on a trip whose gastronomy will introduce us to the best Galician mussels, the most traditional eau-de-vies or the area's famous eels. An experience that will enable us to relive the invasions of the Normans that came to plunder Santiago's treasures, by means of Catoira's internationally renowned Viking Festival; or to immerse ourselves in the crystal-clear waters of Ría de Arousa, at Vilanova's As Sinas and O Terrón beaches, or Valga's Vilarello river beach.
The end of our itinerary, Pontecesures, will give us a close-up view of a 1st-century Roman bridge with twelve arches, which was renovated in the 12th century by Maestro Mateo, right beside the town's jetty and the place on the River Ulla where lamprey have been caught for hundreds of years. In the "praza de abastos" (food market), just a few metres from the river port, we can discover this delicacy and many of Galicia's other gastronomic gems.
The Atlantic Ocean in the area embracing the mouth of the Ulla River is the starting point of the tradition featuring the first pilgrimage to Santiago de Compostela. Vilanova marks the beginning of the magical trip that takes us along the Mar de Santiago route, following in the wake of the boat that brought the Apostle's remains to Galicia, as far as Pontecesures. This sea-river route passes in turn through the legendary regions of Valga and Catoira, featuring their gastronomy, their history and their culture.
According to tradition, the body of the Apostle James the Greater arrived in Galicia around the year 44, after travelling from Palestine in a stone boat guided by his disciples Athanasius and Theodore. The boat crossed the Ría de Arousa and went up the Ulla River as far as Iria Flavia, the present-day Padrón, thereafter continuing on to bury him in the interior of Galicia. The Apostle's grave would be discovered in the early 9th century, giving rise to the city of Compostela and the historical phenomenon of the pilgrimage to Santiago from the ends of the earth.
This journey is known as the Traslatio and is the basis of the Alternative Spiritual Route of the Portuguese Camino, as well as our Mar de Santiago route.
Follow the 17 stone crosses that mark the itinerary. Return to the origin of the Camino and discover Mar de Santiago: a route where you can immerse yourself in history and feel the spirit of the first pilgrims that travelled to Compostela, step by step, drop by drop."