Mar de Santiago is the ideal route for a close-up view, from on board a boat, of the Ría de Arousa coastline where it converges with the Ulla River, making up a beautiful and unique sea-river natural habitat. Sail along the waters of the Atlantic, just a few metres from internationally renowned mussel-producing platforms and shellfish beds, and enjoy the area's heritage from a different perspective.

Mar de Santiago maritime station
Mar de Santiago's Port in Vilanova
The Vilanova de Arousa maritime station is the starting point of our trip on board the Mar de Santiago. This is where most of the boats set sail, travelling along the route up Ría de Arousa and the Ulla River, just as the Apostle James' body did during the "Translatio." After setting sail, we will immediately enjoy a fantastic view of the "ría" (estuary) and the municipality's mussel-producing platforms, which are among the most important in Galicia.
The emblematic Torres de Oeste, located on the banks of the Ulla River, in the municipality of Catoira, feature some of the most impressive views that can be enjoyed while sailing along the Mar de Santiago route. Beside the remains of this medieval fort, which was erected to protect Compostela's treasures, we can also contemplate the recreation of a longship that is used during the Viking Festival.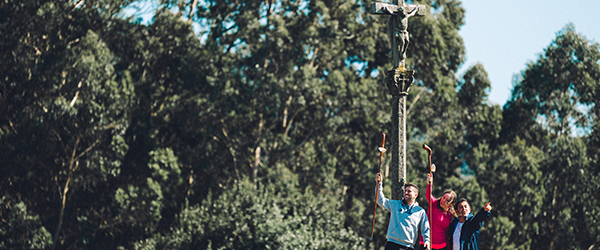 The 17 crosses along the route
The 17 "Cruceiros" (stone crosses) along the Ulla River
Apart from the area's natural beauty, the Mar de Santiago route also features the only maritime Way of the Cross in the world. It consists of 17 "cruceiros" (stone crosses) that indicate the itinerary followed by the Apostle's body during the Traslatio. Each one has its own peculiarities and symbols; they were donated throughout the years by the municipalities where they are located, by the church, several companies and different institutions.
River port of Pontecesures
River Port of Pontecesures
The route ends at the river port of Pontecesures, which is the natural habitat of the so-called "valeiros." These are fishermen that catch lamprey using traditional methods. It is easy to see them, during the season, near the jetties. Just a few metres from the mooring place is the Roman bridge that links the town with the province of A Coruña, and which links up with the Portuguese route on foot of the "Camino" (Way of St. James).