Since the Easter
holidays are just around the corner, Mar de Santiago would like you to enjoy even more places while
you do the Camino. You can enjoy a range of sites with one thing in
common: they're all located beside water!
River port of Pontecesures
The first
place that Mar de Santiago invites you to visit is the river port located in Pontecesures. It
is a key site on the Traslatio route. The original way that was
followed by the disciples Theodore and Athanasius when they brought the Apostle
James' remains. 
Roman bridge of Pontecesures
We
recommend that you continue your route by visiting the Roman bridge of Pontecesures. The bridge, which reflects its
Roman origin and style, was built in the 1st century to cross the
Ulla River. It now links the provinces of Pontevedra and A Coruña. This place is
a key location on the Portuguese Way.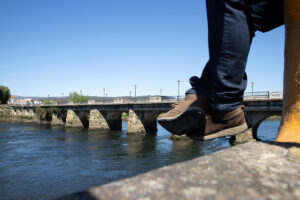 Mina Mercedes Lagoon
Crossing
into the municipal district of Valga, you can now visit Mina Mercedes Lagoon. This was the site of an open-cast mine in the
mid-20th century. The mine was closed in the 1980s, giving rise to
the present-day lagoon. Here you can enjoy beautiful scenery.
Parafita and Raxoi waterfalls
Another
place worth mentioning in Valga is the Parafita and Raxoi
waterfalls. The
Valga River arises in the Xesteiras hills. Between Raxoi and Pedrafita, it
flows through a rocky area, descending a height of 50 metres in a 200-metre
stretch and giving rise to these waterfalls, which can be reached thanks to
wooden walkways.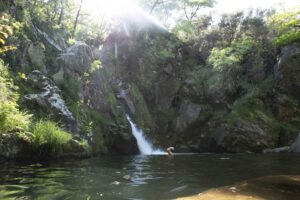 Pedras Miúdas Lagoon
This
recommended waterside route also takes you to Catoira, where Pedras Miúdas
Lagoon is located. It is an abandoned quarry that became a large lagoon
thanks to natural processes. It now features abundant flora and fauna.
Catoira river walk
The Catoira
River walk is located in this same municipal district. It features
long, wooden walkways that follow the river course in complete harmony with
nature. Its raised walkways enable you to visit the river at any time of year,
even when it is at its deepest.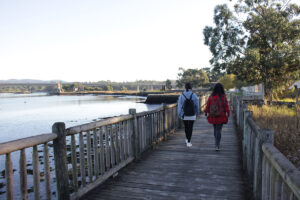 As Sinas Beach
Water is
also an important element in the municipal district of Vilanova de Arousa,
which features two outstanding beaches. The beach of As Sinas is one of the most famous in Vilanova.
There you can enjoy an incredible view of the entire Ría de Arousa and its
mussel-producing platforms.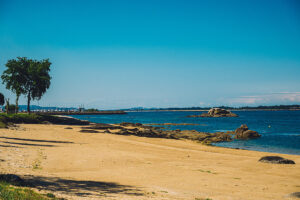 O Terrón beach
To round
off your Way to the Origin, you can visit O Terrón Beach, located in Vilanova. It is a 3-kilometre-long
beach with a very peaceful atmosphere. There is also a walkway that makes it
easy to reach.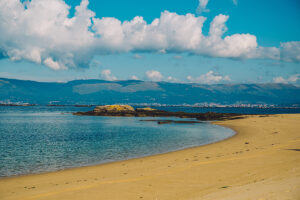 As you can see, in Mar de Santiago you'll be able to enjoy a lot of places bathed by the sea. Don't miss the opportunity to enjoy this spectacular route. We're waiting for you!