Do you have a free day or afternoon and you don't know where to take the kids? Mar de Santiago offers you several options, so that they can have fun in our geo-destination. In this post we will show you the four main children's parks in Pontecesures, Valga, Catoira, and Vilanova de Arousa, along with other alternative plans for spending time as a family.
Pontecesures
Half an hour from Compostela, you can stopover in Pontecesures. Right beside the river port, you'll find a well-equipped children's park where kids can enjoy different games. In addition to the typical slides and swings, you'll find more innovative features, just as a giant xylophone in which you can play different notes.
If you want to get your kids interested in nature sites, you can choose to take them to the viewpoint on Monte Galiñeiro. It features an extensive area where they can run around, as well as beautiful views of the Ulla River as it flows through our region.
Valga
You can continue your route around our geo-destination in Valga's Irmáns Dios Mosquera Park. Here you can combine the children's park, which features a zip line, with other spaces where you can, if you feel like it, do a training circuit, thanks to the different elements laid out in this recreational area through which the river flows.
Nearby you'll find another area, called Mina Mercedes, which is just perfect for enjoying a relaxing stroll. And also, so that the kids can amuse themselves watching the different species of ducks, swans, and geese.
Catoira
You can continue discovering Mar de Santiago for kids by stopping at the children's park in the surroundings of the Torres de Oeste fort. A brief stop that you can undoubtedly round off with a walk along the riverside, before amazing your kids with a visit to the ruins of Compostela's old fort.
You'll definitely be impressed by the Viking longship that you'll find moored at the jetty. And if you have time, don't miss touring the CACTO visitor centre, which you'll find really interesting.
Vilanova de Arousa
We've come to the last stop on our tour of this geo-destination. Vilanova de Arousa features a unique leisure option: the children's park called Jardín Umbrío. It's a small village with little houses, castles, and different means of transport made to measure just for kids. Don't miss the trip in the plane called after Mar de Santiago. A place where you can really enjoy yourself for hours. And if it's a hot day, which not take the kids to one of the municipal district's beaches –As Sinas and O Terrón-?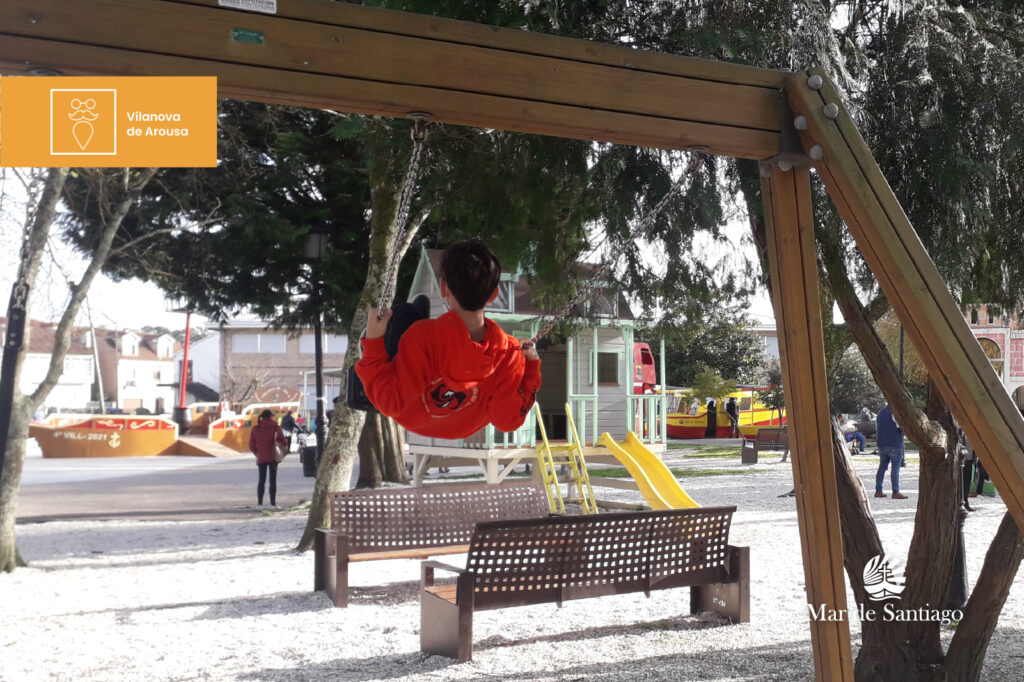 As you can see, there are numerous options for enjoying a break with kids. Why not visit Mar de Santiago with all the family?