The December holiday weekend is fast approaching, so now's the perfect time to plan that longed-for break. Moreover, this year Monday and Wednesday are bank holidays, so you'll be able to unwind during several days. Therefore, in this post we suggest several plans that you're sure to enjoy in Mar de Santiago. Come and discover Mar de Santiago during the December holiday weekend!
Pontecesures, exaltation of architecture
The first place we suggest visiting in Mar de Santiago is Pontecesures, where architecture is the perfect excuse for enjoying a pleasant stroll. The first stop will enable you to become acquainted with the Romanesque Church of San Xulián de Requeixo, whose construction was completed in the year 1116, featuring unique elements such as the heads of two monsters that form part of its corbels. Why not see if you can spot them?
We suggest that you continue your tour of Pontecesures by visiting the historic building called Alfolí de Renta, the maximum exponent of the baroque style in the municipal district. It was built in 1795 to store several products, such as salt, which were sent to Santiago de Compostela. You must visit it to discover its impressive Bourbon coat of arms and the inscription on its façade.
Pontecesures is a region full of charm, including its river port, which is a reference point on the Traslatio route. If you visit the port, you can sail on one of its boats and discover the world's only sea-river Way of the Cross during your trip.
Tradition and amusement in Valga
If you want to immerse yourself in the Christmas spirit with your family, Mar de Santiago provides a great option. At this time of year, Valga is the ideal place for enjoying activities combining tradition and amusement.
Come and discover the Artisanal Nativity Scene in Movement of Valga, which has been declared a Festival of Galician Tourist Interest, opening its doors on the first Sunday in December. Year after year, the members of this association update this Nativity Scene featuring religious tradition and elements of a present-day Galician village.
And if you're one of those that like to be among the first, we've got good news for you. Construction has recently been completed on the new jetty on the Ulla River in Campaña, which will receive tourist boats that sail along the Traslatio route. And although it won't start operating until January, you can now visit the jetty and admire the wonderful views of the Ulla River from any of its benches.
Catoira, nature all over
Another of the regions making up Mar de Santiago is Catoira, where you'll come across nature sites of spectacular beauty. That's the case of the Pedras Miúdas Lagoon, a former quarry that has gradually filled with water from underground springs. You'll be delighted by the area's scenery as you stroll along its trails and walkways. Moreover, its environmental centre features extensive information about the natural regeneration process that created the lagoon.
In the case of Catoira, special mention should be made of its mills. Did you know that it's the only municipal district in Galicia featuring three types of traditional mills? In today's post we'll centre on its windmills, which you can visit by going up to the top of Pedras Miúdas from the lagoon. Note their bidirectional, double-arm systems, as well as their circular ground plan and fixed tower. Undoubtedly, an example of unique heritage!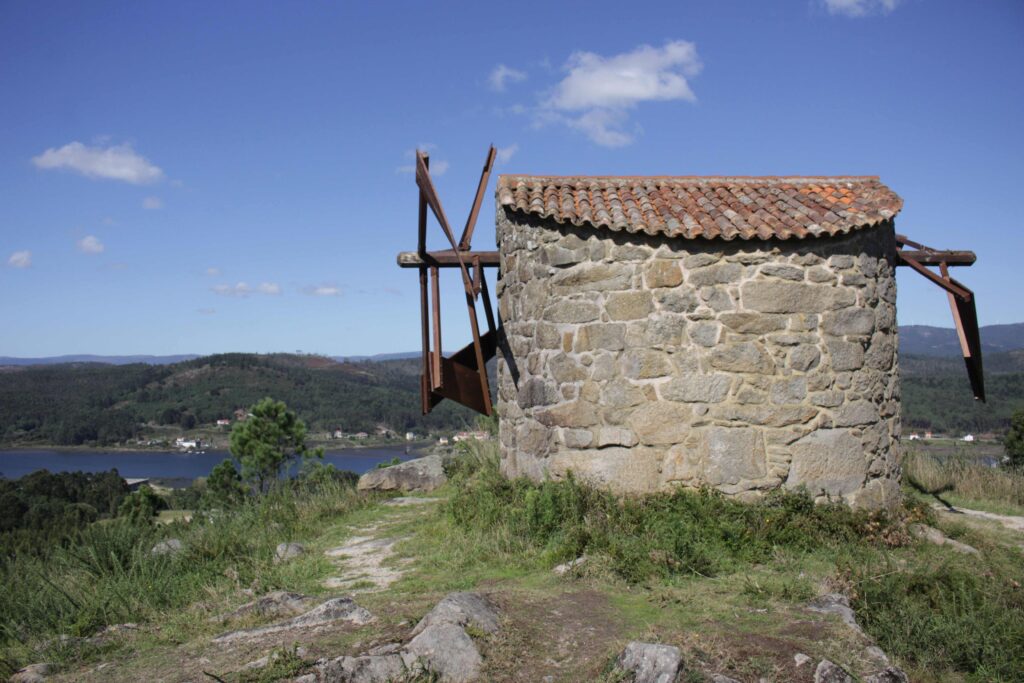 In this municipality, you can also discover the history and culture of Mar de Santiago by means of the Torres do Oeste Cultural Activation Centre (CACTO). It features an extensive exhibition area, where you can see how our region has evolved from Prehistory to the present day, stressing the importance of Vikings in Catoira.
A cultural and gastronomic tour of Vilanova de Arousa
We now visit Vilanova de Arousa to complete our itinerary around the regions of Mar de Santiago. What stands out the most in this municipal district is its range of cultural options, including the Casa-Museo de Valle Inclán.
Ramón del Valle-Inclán is one of the most emblematic figures of Vilanova de Arousa. The writer's House-Museum, which is also called "Casa do Cuadrante," will enable you to contemplate a dwelling from the mid-19th century built in the so-called "pacego" (ancestral home) style. However, undoubtedly, its main attraction is its permanent exhibition featuring first editions of Villa-Inclán's works, which you shouldn't miss while visiting Mar de Santiago.
Finally, we suggest enjoying one of the main features of this destination of Mar de Santiago. Take your time to savour the gastronomic delicacies in the municipality's numerous restaurants. The delicacy par excellence are mussels, which are cultivated on the mussel platforms that you'll see along the coast, which you can accompany with excellent Albariño wine that belongs to the "Rías Baixas" Designation of Origin, as explained in this post.
As you can see, in the different regions of Mar de Santiago you'll be able to enjoy all kinds of different experiences. From cultural activities, including a range of museums and exhibitions, to the tasting of exquisite products that form part of the local cuisine, without overlooking the wonderful nature sites where you can breathe in fresh air. We invite you to discover it all for yourself!